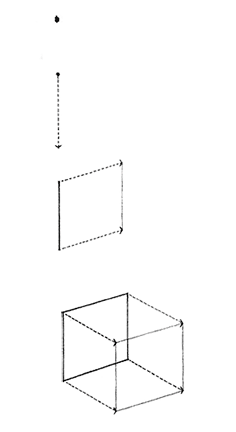 Our 30 seconds
Elevator Pitch
Why Dots?

The illustration says it all. All space and form begins from a single dot, which will be extended to become a line, then a plane, then a volume. This is the prime generator of forms to create any types of space, practised even by the most prominent designers such as Marcel Wanders, Zaha Hadid or Karim Rashid.

We strive to create a masterpiece for our clients using the most fundamental elements into our design, simply because, less is more.
We aspire to pleasantly surprise our clients by leading through innovations.
From its humble beginnings as UCSI Group's in-house interior design provider, Dots has grown in stature to become the entrepreneurial ID firm it is today. Built on a track record of excellence, Dots' portfolio has grown over the years and our prize projects include the Le Quadri boutique hotel, the UCSI International School and the UCSI University Hospital, among others.
At Dots, we are passionate to deliver creative concepts and visionary designs to meet – and exceed – our clients' expectations. Regardless of the challenge, our versatile and multi-disciplinary team is committed to offer unsurpassed design and service, while providing solutions to enhance operational needs.

© Copyright 2013. UCSI Education Sdn. Bhd. (185479-U). All rights reserved.